30/04/2021
The practice of the drone in Nature Reserve!
Following the advisory committee of March 7, 2019, a prefectural decree concerning civil aircraft without people on board was validated.
It regulates the use of civilian drones and the practice of aeromodelling in the Haute Chaîne du Jura National Nature Reserve.
What to remember from this one:
1- The overflight ban applies: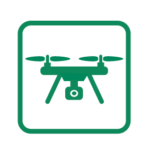 Year-round, in the perimeters concerned by the nesting of the Golden Eagle and in the biotope protection zones set by prefectural decree,
During their activation period, in the Wildlife Quiet Zones,
within 300 meters of wildlife and livestock.
2- Outside these areas, overflight for leisure purposes is authorized subject to compliance with the general regulations of the Nature Reserve.
3- On the other hand, in a professional setting, for an event and / or with a promotional objective, the flight over the Nature Reserve is subject to authorization by the Advisory Committee or the Works Monitoring Committee (CST).
The decree can be viewed HERE and the associated map HERE.
We are counting on each of you to disseminate this information and actively contribute to compliance with these new framework provisions. Together, let's contribute to the protection of this exceptional space and to the well-being of the fauna that inhabit it.