22/06/2023
Prefectoral order Cycle!
Following a meeting of the advisory committee on March 9, 2023, a prefectoral decree regulating cycling practices was approved.
It regulates the use of bicycles and cycling in the Haute Chaîne du Jura National Nature Reserve.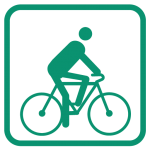 Key points to bear in mind :
Cycling in the Nature Reserve
1- Cycling in all its forms (notably mountain biking, VAE, Gravel, road biking, enduro, etc.) within the perimeter of the Haute Chaîne du Jura National Nature Reserve and its wildlife tranquility zones is authorized only :
on roads and forest tracks regulated by municipal and prefectoral decrees and explicitly authorizing the circulation of non-motorized vehicles (i.e. bearing a B7b type sign at its extremities);
on itineraries specifically marked by Pays de Gex agglo (through its competence in this area) for this practice;
Whether for leisure or professional use, cycling must comply with general regulations and with the decree of February 26, 1993 creating the Haute Chaîne du Jura National Nature Reserve.
2- Any professional or association event, whether cultural, leisure, sporting or for promotional purposes, taking place on routes located in the Nature Reserve must obtain the favorable opinion of the advisory committee or the work monitoring committee.
3- In addition, in order for the application to be examined by either of these bodies, the authorization application file must include the authorization of Pays de Gex agglo or the Communauté de communes du Pays bellegardien, each in its own right, as well as that of all the landowners concerned. In the absence of either of these authorizations, the application will not be processed, and the event will not be authorized.
Restrictions
1- Outside community itineraries, authorized roads and tracks, and in compliance with the regulations governing wildlife quiet zones, where these are active, authorization from the landowner(s) is recommended in order to ride. Without such authorization, the cyclist may be held liable.
2- Off-piste riding in natural environments, whether in forests or mountain pastures, is strictly forbidden.
3- Cycling of any kind is prohibited in snow conditions of over 15 cm.
The decree can be consulted HERE
We are counting on each and every one of you to disseminate this information and actively contribute to ensuring compliance with these new regulations. Together, let's contribute to the protection of this exceptional area and the well-being of its wildlife.